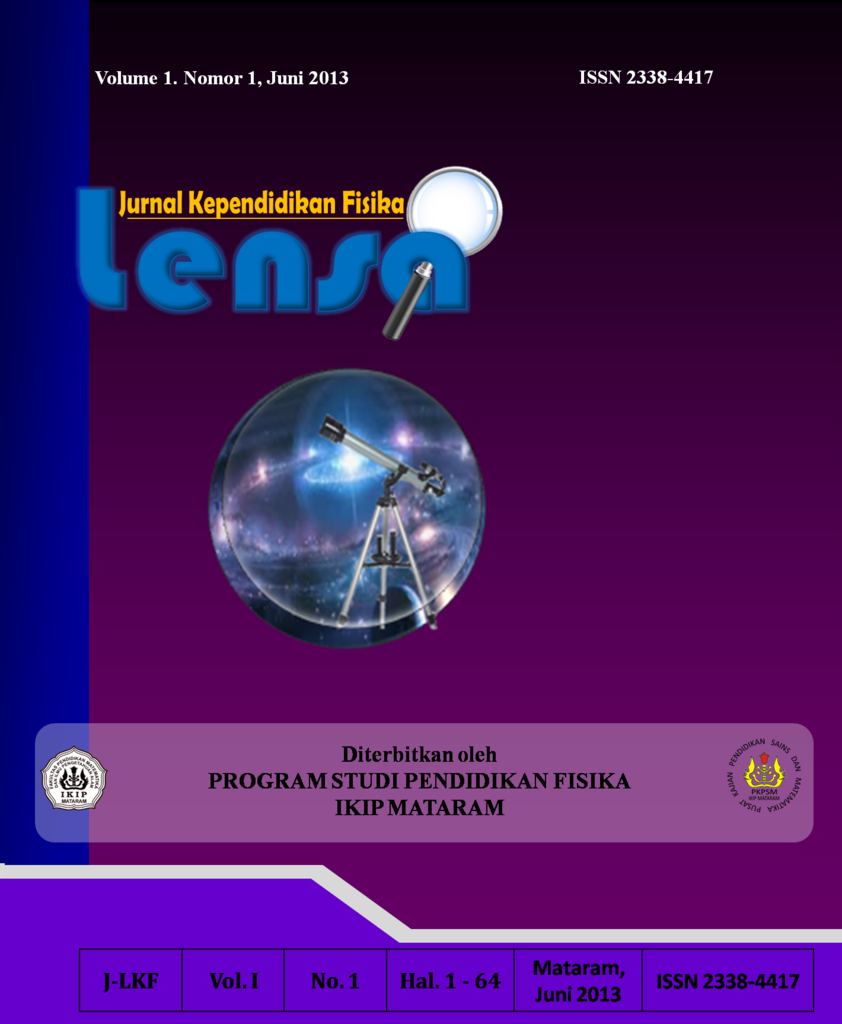 Journal title

Initials

Abbreviation

Frequency

DOI

Print ISSN

Online ISSN

Editor-in-Chief

Managing Editor

Publisher

Citation Analysis

: Lensa: Jurnal Kependidikan Fisika

: J-LKF

: Jurnal. Pendidikan Fisika. Ilmu Fisika

: 2 issues per year (June and December)

: prefix 10.33394

: IKIP Mataram
Lensa: Jurnal Kependidikan Fisika (J-LKF) published by the Physics Education Study Program Faculty of Mathematics and Natural Sciences (FPMIPA) IKIP Mataram. Contains scientific articles in the form of research and literature. Published every 6 months, including a study of science and teaching in the field of Physics in Indonesian and English.
This journal has been covered by the following indexing and abstracting services:
Announcements
Changes in 2017

Please note that starting from Volume 5 Number 2 2017, this journal using a new template. You can download this template on the sidebar of this journal site.
Posted: 2019-10-15

Changes in 2019

Please note that this journal has changed an article language from the beginning of 2019. The article should be written in English.
Posted: 2019-10-15
Vol 7, No 1: June 2019
Table of Contents
Articles
| | | |
| --- | --- | --- |
| | Syatanul Iman, Lovy Herayanti, Syifa'ul Gummah | 1-5 |
| | | |
| --- | --- | --- |
| | Anafitriani Anafitriani, Baiq Azmi Sukroyanti, Lovy Herayanti | 6-9 |
| | | |
| --- | --- | --- |
| | Agus Fatwadi, Syifaul Gummah, Dwi Sabda Budi Prasetya | 10-14 |
| | | |
| --- | --- | --- |
| | Triyani Triyani, Lovy Herayanti, Syifaul Gummah | 15-18 |
| | | |
| --- | --- | --- |
| | Aulia Rahma Wardani, Syifaul Gummah, Sukainil Ahzan | 19-23 |